Dr. Hitesh Patel – A Pain Specialist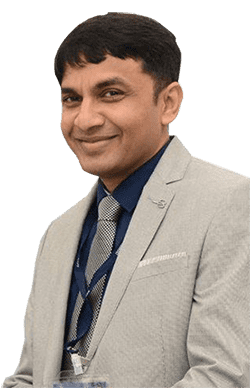 Live Well Hospital in Ahmedabad is proud to have Dr. Hitesh Patel as its esteemed pain management specialist. With a remarkable track record and a compassionate approach, Dr. Patel has earned a reputation as a leading figure in the field of pain management.
Pain is a complex and multifaceted experience that can significantly impact one's quality of life. As a dedicated pain management doctor, Dr. Hitesh Patel understands the intricate nature of pain and its effects on patients. With his extensive medical knowledge and years of experience, he specializes in diagnosing and treating a wide range of pain conditions.
Dr. Patel's expertise extends to various aspects of pain management, including chronic pain treatment, acute pain management, and interventional pain procedures. His patient-centered approach involves a thorough evaluation of each individual's condition to develop personalized treatment plans. Dr. Patel collaborates closely with his patients, ensuring they play an active role in their pain management journey.
One of the key aspects that sets Dr. Hitesh Patel apart is his proficiency in interventional pain management techniques. He employs advanced procedures that target the source of pain, offering relief and improving patients' overall well-being. From minimally invasive pain procedures to innovative approaches for neuropathic pain treatment, Dr. Patel employs a diverse range of techniques to address various pain conditions.
Patients seeking relief from back pain, joint pain, arthritis, sports injuries, and even headaches and migraines have found solace under Dr. Patel's care. His holistic approach extends beyond pain relief, focusing on enhancing the overall quality of life for his patients. Dr. Patel's expertise is particularly evident in cases requiring multidisciplinary pain care, where he collaborates with a team of specialists to provide comprehensive and effective solutions.
At Live Well Hospital's Pain Clinic, patients can expect not only cutting-edge treatments but also a compassionate and supportive environment. Dr. Hitesh Patel's commitment to patient education ensures that individuals are well-informed about their conditions and treatment options. This empowers patients to make informed decisions and actively participate in their pain management plans.
In conclusion, Dr. Hitesh Patel, a prominent pain specialist at Live Well Hospital, Ahmedabad, brings a unique blend of expertise, empathy, and innovation to the field of pain management. His unwavering dedication to improving the lives of those in pain underscores his commitment to the well-being of his patients. With Dr. Patel's guidance, individuals can find relief, regain control over their lives, and embark on a journey toward living well.